Tile TIps
The Mosaic Range You Need To Be Excited About
If you are looking at adding versatility and freshening up the interiors of your home, mosaic tiles offer a creative touch like no other. The different colours, patterns and the vibrancy they bring in make mosaic flooring and mosaic wall tiles, the most sought-after to use for a stunning effect. If you are looking for an alternative to conventional wall and floor tiles, mosaic is your way to go. Here are some mosaic design ideas by NITCO that look absolutely gorgeous.
KISS – Keep It Simple & Subtle
If you are someone who cannot relate to glamorous and eye-grabbing colours and find refuge in simple and subtle hues, you are going to love the Rigel mosaic floor tiles. The beige and brown combination looks rustic and exudes an elegant vibe that will go well with most of your aesthetics.
Beige & Beautiful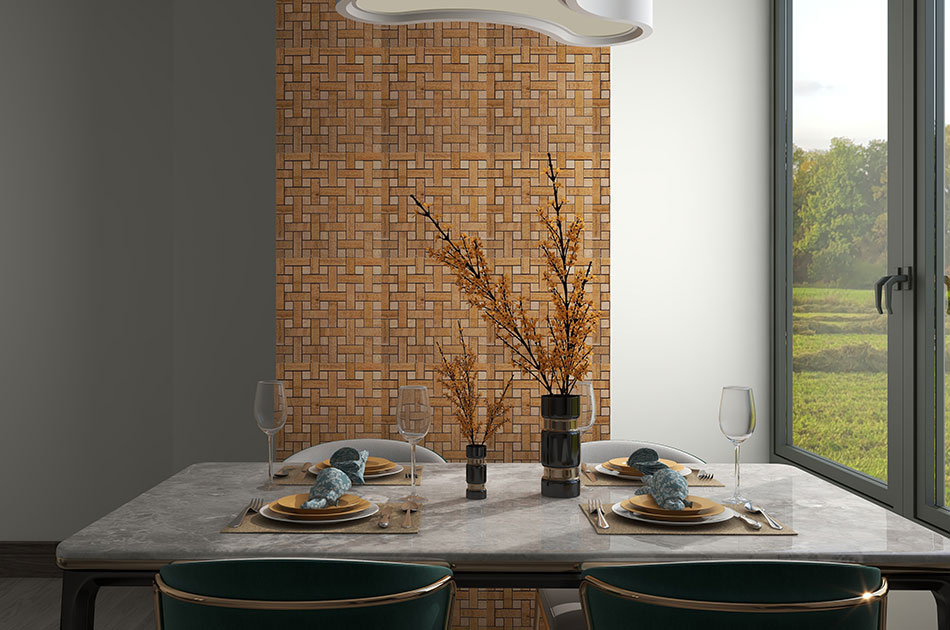 Love an intriguing eye illusion? Trust NITCO's Lattice Beige mosaic tiles to lend the perfect mosaic frame for your outdoors and make an impression on anyone who sets foot in your space. Just a sliver of these mosaic tiles can seal the deal too as they can instantly uplift the entire area with their eye-grabbing placement.
White Elegance
The Nuvola White mosaic tiles are the most popular mosaic kitchen tiles owing to their ability to create an impact as a backsplash. They are easily the hero of the kitchen décor and can help make an impression without trying too hard. They transform the look of your cooking area and are easy to maintain as mosaic tiles are easy to clean. You simply have to wipe them with a wet cloth and the stains will vanish.
The Ultimate Classic
No one can say no to a great combination of black and white. Perfect for your home flooring makeover, the Odessi Black mosaic tiles should be your go-to if you want to get a little creative and whacky with your interiors. Mosaic floor tiles are highly durable and are resistant to chemicals which is why using them as your flooring material would be a great choice.
NITCO has a wide range of mosaic tiles collection to choose from and let's accept it, in the endless possibilities in home décor, mosaic takes a special place with its vibrant and fun flair.