Marble
Why Pristine, White Marble is All-Time Classic in All Marble
Angelic, divine, and pure, the colour white invokes a sense of class and sophistication like no other colour. And when we combine our love for this celestial shade with marble, the result is nothing short of stunning. The gorgeous Carrara and Calacatta Marble, with their classic grey veining, have been an all-time favourite of designers as well as novices, and why not? White marble signifies luxury and extravagance, and there's nothing wrong with it.
Why is Italian White Marble a timeless investment?
Pure white marble has been the stone of choice for centuries. Today, as we have gained knowledge about this natural stone, we know more about how to take care of it and maintain it. Marble is more than just a luxurious stone; its durability and classic attributes make it a priceless investment that will stand the test of time.
Marble lovers have always enjoyed the look and luxury of white marble stone as it aged. Following the current vintage trend and lending an old-world charm to your space, chipped and stained marble can add to the look and feel.

Check out our White Marble Collection
How to re-do your space with Marble?
Marble flooring in offices makes the space look spacious, bright, and provides a sense of calm. Moreover, marble countertops for kitchen and bath have long since been a staple of fine homes.
Homeowners and designers have come to recognize that large expanses emphasize the smooth, clean appearance of the stone and are an excellent way to capitalize on its beauty.
The white stone is also a pleasantly cool option for flooring – a quality valued in hotter climates like India. The material choice for flooring can significantly affect keeping your space more comfortable with natural means.

Check out our White Marble Collection
Why should you opt for NITCO Marble?
The first thing that strikes your mind when you hear 'marble' is 'expensive.' NITCO Marble brings accessibility to this natural stone with its affordable rates. Moreover, the brand's cutting edge technology ensures zero wastage, as there is no human interference. This process helps cut down the cost considerably.
With over 300 naturally designed marble available for you to pick from, NITCO ensures you receive the size and shape you are looking for with customization as per your needs.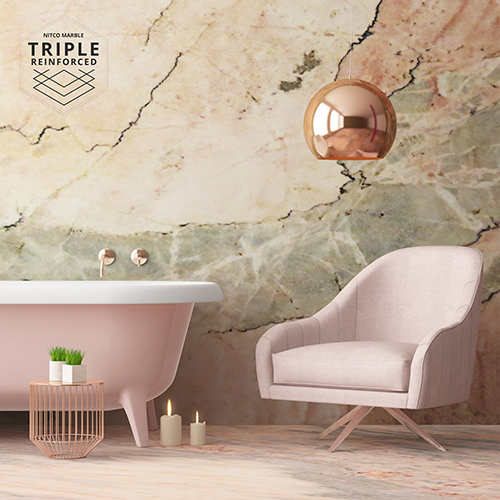 Accessibility translates to greater affordability, which means that white marble that was once celebrated in only the wealthiest homes of the past can now be an affordable, realistic investment in luxury today.