Product and Services
Why Marble & Monochrome Continue To Rule Our Hearts
When designing your personal space, you are bound to browse and pin your favourite ideas. Apps like Instagram and Pinterest spoil us for choice when it comes to picking our favourite. If you are on the lookout for some Insta-worthy inspiration for your house or office, we've got you covered with some basic styles and tips that are never going out of trend. While there are a plethora of options available online, there's one style that is here to stay – Monochrome. We give you three reasons why the combination of marble and monochrome is a go-to choice for those who love simple and classy.
1. Less is More
There is nothing better than a space that speaks for itself. Your home often defines your personality. If you play around with a single shade in your personal space, it is easy to identify that you are not someone who likes to experiment much and are a true believer of the 'less is more' concept. The right blend of marble flooring with a monochromatic shade is ideal for you.
For instance, this absolutely gorgeous bathroom is spruced up in a single shade of beige, while the same shade is consistent on the floor as well. The natural light makes the bathroom look spacious and the marble veins add texture.
2. Contemporary and Classic
There is nothing more alluring than a monochromatic colour. For many people, white or beige are the only colours they can think of when it comes to flooring. And it's not hard to see why; they always look clean and fresh. The beige marble floor seen here, with brown veins look drop-dead gorgeous. The living room looks spacious and elegant, while the entire space remains classic with the monochromatic marble.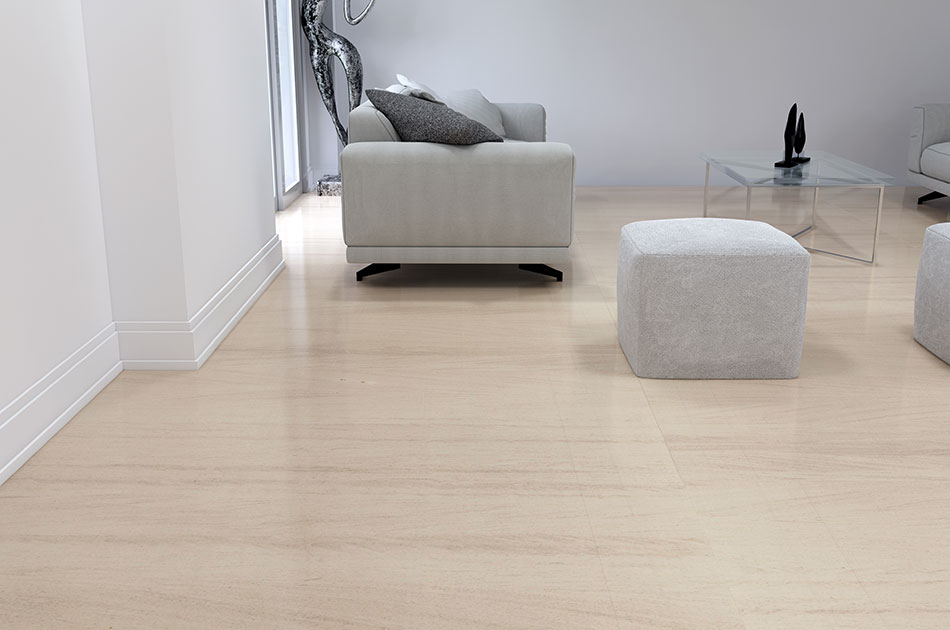 3. Go Loud or Go Neutral
The biggest advantage of choosing a single shade is that you can easily play around with your furniture and decor aesthetics. From colourful cushions or a pastel throw over the couch to muted upholstery, you can decide what you like and we bet you can't go wrong with it. This muted bedroom looks drop dead gorgeous all thanks to the marble's natural veins which highlight the back wall of the bed and amp up the interiors.
While we are busy looking for more such monochromatic room ideas, we can't help but fall in love with this classic concept. The melange of marble and monochrome looks dreamy and surreal, don't you think?