Tile TIps
Tiles That Take Care Of Your Family
Tiles have been around for centuries and have helped us make our surroundings look better. It's like our bathrooms and kitchens have enjoyed the exclusive interior design rights to tiles for too long now. It's time to look at tiles with a fresh perspective. With advancements in technology, tiles are so much more than just an age-old finish for floors.
Now, the lockdown has not only brought us closer to our family, but also got us thinking about our family's health and safety. At NITCO, we have gone a step further and added the best of features which understand your needs as well as add the glitz and glamour to your house within a budget. Here's a simple round-up of all the why's and how's that are occurring in your head right now!
Anti-Bacterial
From sanitizers to home products, this lockdown has taught us to be extra-careful of what we buy. NITCO tiles possess the unique quality of combating bacteria that comes in contact with the surface, thanks to the oxidation process of the tiles. The anti-bacterial tiles go through an anti-bacterial treatment using special glaze that prevent the growth of any germs or bacteria.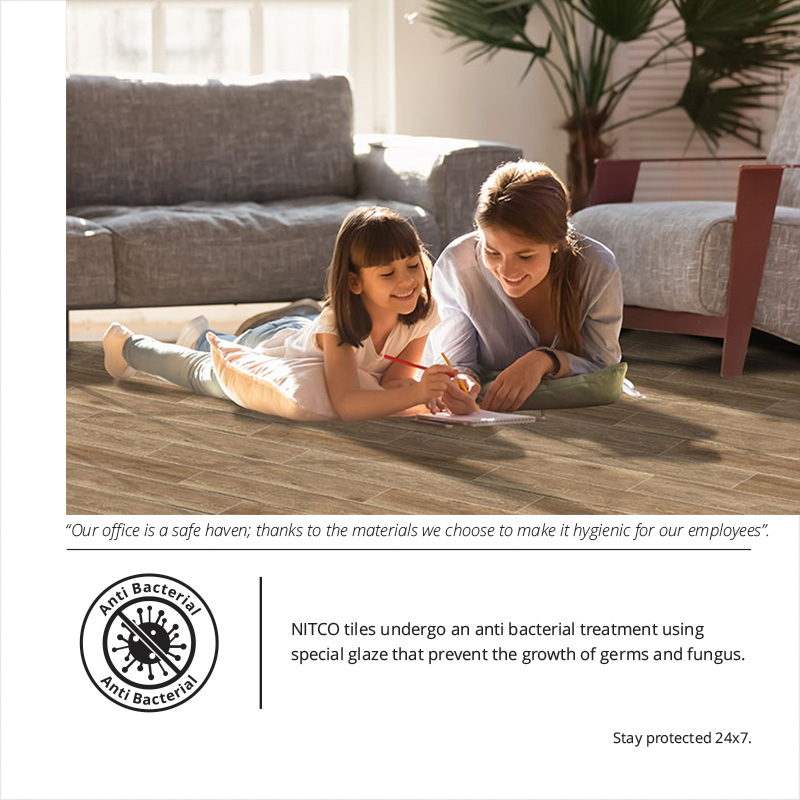 Easy-To-Clean
Sweeping and swabbing are regular chores in an Indian household, so the tiles you use have to offer the ease of cleaning. All NITCO tiles – floor tiles, bathroom tiles, kitchen tiles and wall tiles - are extremely easy to clean. Each of these can remain sparkling new if you follow the simple and basic cleaning guidelines to remove stains.
Anti-Skid
It is often observed that people have their reservations about tiles due to their slippery texture. However, with the growing demand for anti-skid tiles, NITCO has come up with slip-resistant tiles. We have a slip rating for all our tiles that specify the frictional resistance. If you are looking for anti-skid tiles for bathrooms and are concerned about the look, fret not, we have some super stylish tiles that will win your heart.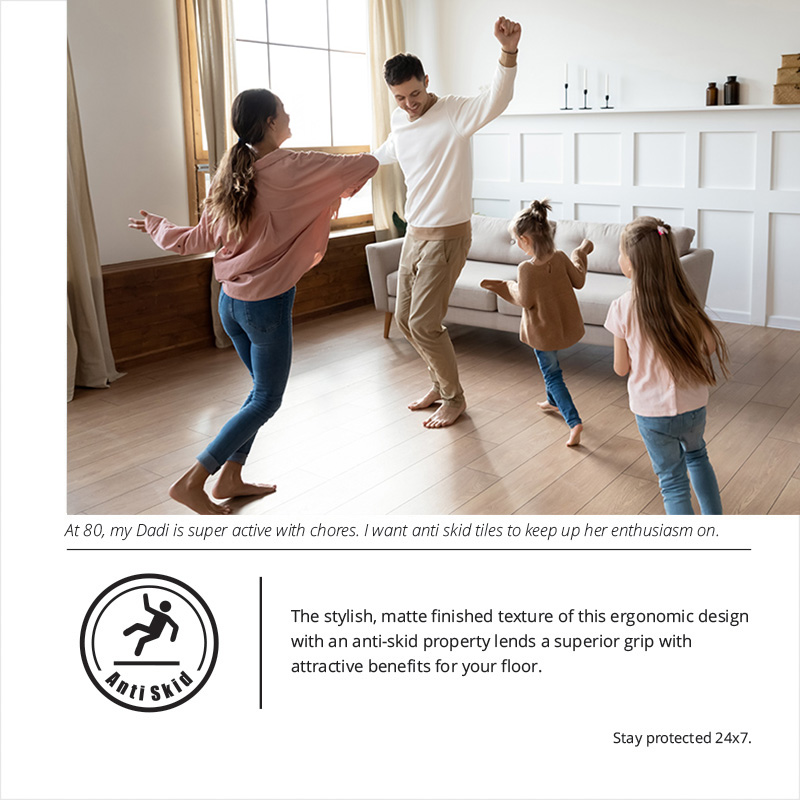 Durable
Durability is one of the biggest factors that is taken into consideration while picking the right tiles for your home. In general, tiles tend to be the most durable flooring types. At NITCO, our robust and contemporary design boasts of indestructible features offering an unmatched performance. From kids and dogs to buttery fingers that tend to drop everything on the floor, we've got you covered with the best tiles in the industry. (The image for this is missing so have given a shutterstock one from the bank itself)
Aesthetic
Aesthetics and looks are the first thing anyone would think of while doing up their house. NITCO tiles help sprucing up your house with a sleek and modern influence in a budget that does not leave a hole in your pockets. Inspired by nature, our tiles transform a house into a home.