Product and Services
A Digital Revolution: With A Cloud-Based, Integrated ERP System, NITCO Tiles is All Set To Scale Up Its Operations
SAP Integrated planning has been around for years and has earned several accolades across industries for enabling businesses to run smoothly and for being a strong support in their growth journey. With an intent to mark our digital footprint, NITCO Tiles adopted SAP ERP ECC 6.0 in the year 2006 and since then the system has allowed the brand to reach new heights. However, an upgrade was required to enable us to exceed industry standards and we were on the lookout for a system that could align with our goals of seamless operations to enable us to stay a step ahead of our contemporaries. NITCO wished to innovate the digital infrastructure much like their design elements and to adopt AI and machine learning to their business module which is why S/4 HANA acted as an essential asset to the brand's vision.
With the revolutionary digital infrastructure, NITCO will have real time access to reports and dashboards, the process mapping will reflect the current business state and there will be a reduction in user licenses. The cloud version of SAP will give NITCO the liberty to no longer depend on purchase and maintenance of hardware, lock-in by hardware vendors or upgrades/migration to AMC costs. With the new database, the response time will improve significantly and we will have the ability to integrate processes seamlessly.
SAP S/4 HANA utilizes artificial intelligence to transform business processes - in the cloud or on-premise. NITCO has implemented SAP S4/4 HANA to enable a real-time overview of operational data making it easier to streamline and automate processes in a standardized manner. With this new-age cloud ERP system in place, NITCO can now receive orders directly from its E-commerce website, online portals or the digital store. It also helps in the optimization of demand forecasting, production planning, working capital management and provides an easier integration with workflow solutions.
The different areas of the business that will see an improvement for NITCO are: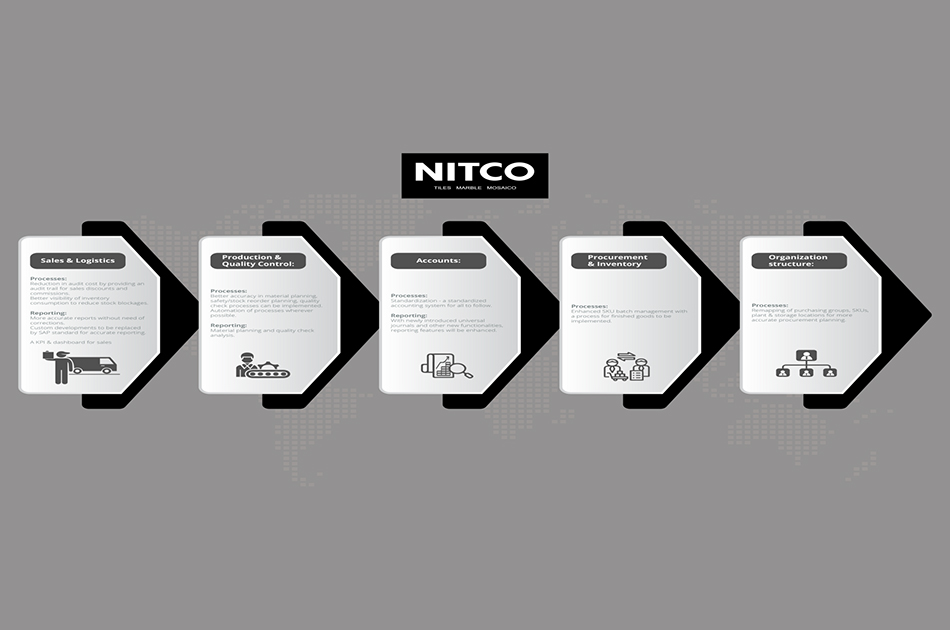 What does NITCO have in store for the future?
The S/4 HANA system is the foundation for all technological developments and integrations. With the setup on Amazon cloud, the integrations with all cloud based software solutions can easily be done.
NITCO Tiles has adopted this complete, intelligent ERP system with embedded AI, machine learning and advanced analytics. This will enable the brand to adopt new business models, orchestrate internal and external resources, manage business change at speed and use the predictive power of AI to the brand's advantage. With the S/4 HANA system, we look forward to pioneering the industry with our bolstered network infrastructure.