Marble
5 NITCO Marble Designs That Will Add The Oomph To Your Home
Marble is the true definition of luxury and opulence. The timeless beauty that marble floor designs and marble wall designs offer is unmatchable. However, if you are bored with the way marble is being used in most spaces, we give you some unique ideas of including this stunning natural stone to your interiors. Our marble collection is sure to make you want to get your hands on this regal stone.
How To Pick The Right Marble?
Marble is a natural stone that has peculiar colours, veins, thickness and aesthetic characteristics that is unique to each slab. Even in the same geographical area, one single type of marble can be considered exclusive to the quarry from which it was extracted.
Italian marble designs are considered to be the best in the world, thanks to their purity and durability. Picking the right marble involves understanding the usage of the stone in your personal space as to where you want to use it and the quality of marble you want to use.
Tip: A NITCO expert can guide you through the entire process right from selection to installation, and we are just a call away.
NITCO Marble Save on Cost And Time
The cutting-edge technology of the NITCO Marble plant involves fully automated processes. Right from block strengthening to polishing, the entire system is handled by robots with zero human interference. This system helps in reducing the chances of breakages due to manual handling of slabs.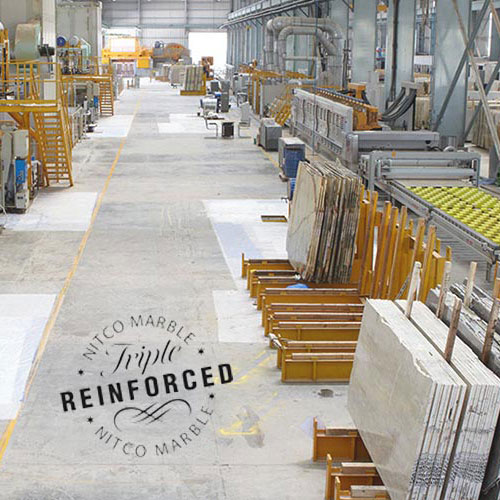 Easy Installation And Delivery
Before the installation of marble, there is a dry laying where the NITCO crew will ensure there is no wastage of marble. The delivery is made by packing each slab in a crack-proof material which removes any manhandling errors.
5 NITCO Marble Designs You Can't Say No To
Here are 5 NITCO marble tile designs that are sure to floor you with their beauty.
A deep black marble with golden veins that beautify the colour further, the Argos Gold is a hot favourite. It's a grand marble floor design for homes, especially bedrooms.
Click to view the Argos Gold Marble
Holland Rose just as the name suggests has a touch of rose-red to it. Great as a wall splashback or a countertop, this marble is sure to add the glam to any room.
Click to view the Holland Rose
Grey marble with a glimpse of the natural beauty of the sky; this one is a personal favourite. Add it to your walls or just as a distinctive flooring; this is sure to catch everyone's attention.
Click to view the Grigio Monet Sky
If you like sticking to the basics and don't want to go too bold, this one is just right for you. Tobacco Brown is an excellent design for floorings.
Click to view the Tobacco Brown
This pretty marble stone is an excellent addition to your kitchen top or just as a hero wall in the living room.
Click to view the Onyx (Cloudy Pink)
Check out our enviable marble collection.