Marble
What is So Marvellous About Marble?
Marble or metamorphosed limestone is a beautiful natural stone that ups the ante of any house. Having been around for centuries, this stone is a definite yes when it comes to doing up your home. Marble flooring is considered to be one of the richest and luxurious picks of the privileged. Out of the many available options, Italian marble is a hot favourite for those who love to stand out from the rest when it comes to doing up their personal space.
Why is marble a constant favourite?
Available in a vast number of colours, royals have used marble flooring for the inimitable luxury that the stone offers. Being a natural derivative, each stone is unique with its distinctive grain and veins. Thanks to its colours, strains and exceptional lustre – as well as its versatility – artists, architects and designers have always loved this stone.
Marble has qualities like long life, but it's also a medium to express new shape, colour and texture creativity. The natural stone suggests sophistication and is deeply rooted in history. The regality it offers is unmatchable and can leave you awe-struck.
Check out our
How to go about picking the right marble for your space?
While choosing your marble designs for home, ensure they are without any stains or cracks. Do your market research before picking up the marble slab. Select slabs of the same thickness and dimensions for a uniform look. It is also essential to hire skilled labour for the installation process as improper laying can lead to breakages and cracks in the marble floor designs.
Marble, being porous, is prone to staining. Food items and cleaning agents like acids can leave stains on the flooring. Hence, it is crucial to understand which rooms in the house are best for marble flooring. Constant cleaning with cleaning agents can ruin the marble designs.
Even though marble is durable, it requires special care and upkeep. Avoid acidic cleaning agents and harsh scrubbers to avoid discolouring or scratching of the smooth surface.
The novelty of NITCO Marble
Considering all the above aspects, your will to pick your favourite stone may have deterred a bit; however, NITCO got you covered. We source our Italian marble from the world's best quarries. Our cutting-edge technology and fully automated process leave almost zero marble wastage which cuts down your cost considerably. Moreover, no human interference ensures that the time required also reduces to a large extent. The uniformity of the marble slab is maintained as there are no human errors, and the precision is almost unmatchable.
The delivery and installation process are smooth and involves packaging that is breakage-proof. The entire process right from sourcing to installation is the best as per industry standards, and we are sure it will add the right glam to your personal space.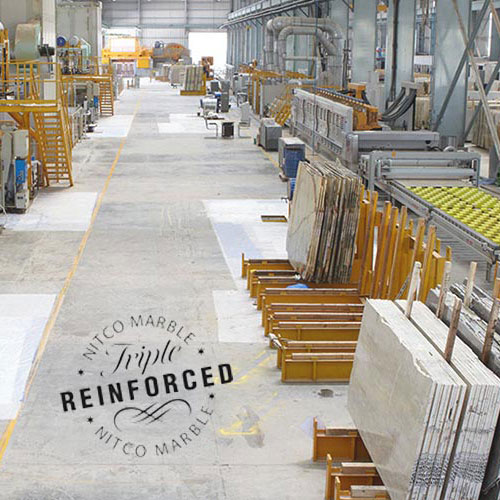 Don't miss out on checking our .