Tiles Design Ideas
Ready to Revamp Your House With Pantone Colours of 2021?
When Pantone picks two colours of the year instead of one, you know it's something special. With the year that went by, the need was of two such colours that would bring in a ray of hope, happiness and serenity. Choosing a soothing light grey – Ultimate Grey and a bold bright yellow – Illuminating, to offset 2020 feels fitting and comforting.
According to Pantone, Ultimate Grey is representative of dependability and strength whereas Illuminating is a bright, cheerful yellow emblematic of the sun and its positive energy.
So if you are wondering how to include the Pantone Colours of 2021 as a part of your current abode and how to make this colour combination work like magic, we've got you covered. Check out some trendy NITCO tiles that can help take your interiors a notch higher.
Aeon Amani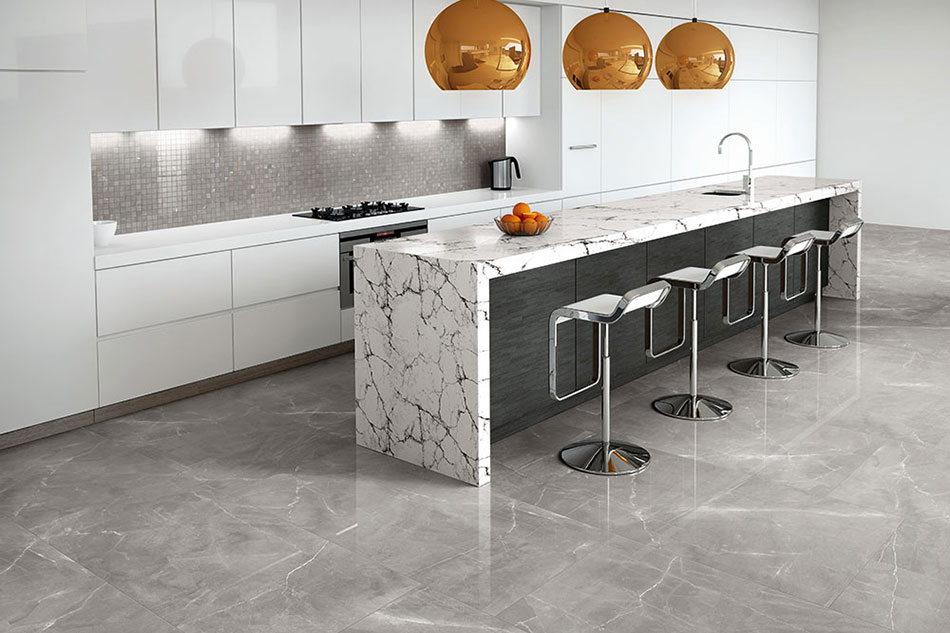 The Aeon Amani glazed vitrified tiles are just perfect for those who love to keep it simple and elegant. This grey tile that looks like a glossy marble inspires feelings of resilience and equilibrium that invoke an abundance of positivity. Don't miss the grey backsplash mosaic tiles that accentuate the look of the open kitchen. Grey wall tiles and grey floor tiles equally up-the-ante of any space owing to how the hue soothes the eye.
Nordic Fossil
Stone look-alike tiles are most often greys. This combination depicts the natural element of the Ultimate Grey and evokes strength to the space. The Nordic Fossil with its matte finish makes you fall head-over-heels in love with its texture and finish.
Romano Crema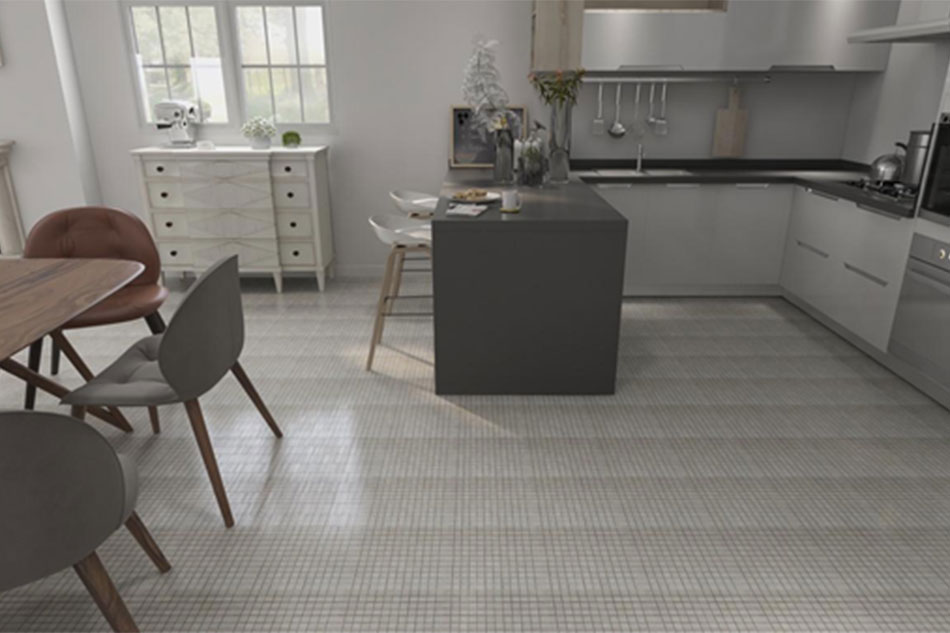 This all grey and white kitchen and dining area is modern, compact and exudes a warm vibe. It is the perfect use of the Pantone Colour of the Year – practical and rock solid. The Romano Crema is one of our best-selling tiles that feature in the Mosaico collection. Let the magic of Mosaico add a special touch to your indoor spaces.
Illuminating Yellow
If you aren't very sure of using the pop of yellow as a part of your flooring or walls, you can add the illuminating colour through cushions or just throws over your couch, as seen above. The combination of yellow and grey can be played around with and we bet, you can't go wrong with this one.
Ultimate Grey and Illuminating can be used in more ways than one. It is the most lethal combination when it comes to doing up your interiors. The pop of Illuminating be it in the form of accessories or a hero wall with an all grey flooring can make anyone a fan of these colours.